Buzzards Roost
Key Largo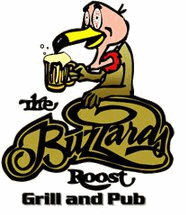 The Buzzards Roost is not the easiest place to find, but once you have visited we are sure you will return again and again before your vacation ends.
We heard about the place numerous times after staying at the Marriot Resort in Key Largo, and such was the passion that people told us.
"Have you tried the Buzzards Roost ???
Man, go today and thank us tomorrow !"
Well not being ones to not follow up on a good lead we did what we were told.
We were not disappointed.
"You Hook It and We'll Cook it" say the owners of this casual waterfront Key Largo restaurant, and really if we were better fisherman then we would take them up on this offer.
Go into the Florida Keys waters, sink a few beers and then bring it back to the "Roost" for a evening meal
Sounds like the perfect way to spend a day??
But we are rubbish at fishing, so not wanting to starve to death, we hooked it straight from the menu.
One of the best appetizers that our group tried was the corny blue crab cakes.
This is blue crab meat blended with veggies and roasted and roasted corn served with remoulade sauce.
And the original Conch fritters of the Keys were to die for!
Being right on the waters edge at the marina, and yes you are right on the edge to the point that you can sail here in your boat (GPS N25.10.237, W 80.22.285) if you really want to have a waterfront experience, then we have to say that the catch brought in fresh that day is extremely good indeed.
It's caught then prepared, before being grilled and blackened.
You can then choose whether you wish it to be broiled, sautéed, fried or even Jamaican jerked.
They also serve garlic Conch steak and Florida Oysters.
Seafood Fra Diablo is fish, shrimp and scalps in spicy marinara sauce served over linguini.
But don't let the fishy menu put you off, as Kristy our waitress,(who was attentive and prompt with a great personality too) told us.
The steaks are fabulous too, and don't worry as they come up whatever size you want!"
We really enjoyed this Key Largo restaurant and thoroughly recommend it.
Contact Information:
21 Garden Cove Drive, MM 106.5 Oceanside, Key Largo, FL, 33037
Opening Times:
Mon - Thurs: 11:00 am - 9:00 pm
Fri - Sat: 11:00 am - 10:00 pm,
Sun: 10:30 am - 9:00 pm
Phone: 305-453-3746
All Major Credit Cards Accepted
---
---
Florida Keys > Florida Keys Restaurants  > Buzzards Roost
Return To Top Of Buzzards Roost
Home | Site Map | Contact Us | Privacy Policy
By David Ralph
Copyright © 2010-2017 whats-at-florida-keys.com