Windley Key Fossil Reef - Step Back Into "Florida Keys" History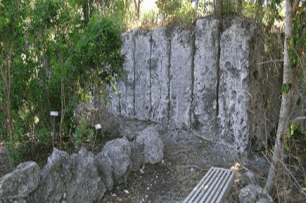 Windley Key in the Upper Keys is a Geological State Park that is worth mentioning, but it would be wrong for us to say "Wow….you have got to go!"
The quarry is of huge historical interest, as this is really where you will discover so much about the origins of the Florida Keys.
But you may however, feel and hope that the origins of the Florida Keys start and finish with the Rum Runner Cocktail, if that is the case then drive on by and head for Duval Street instead.
Get us one in too, and we will meet you there!
But if you fancy an interesting couple of hours wandering around the Key Largo limestone quarry, you will find out much about how the transport network known as the Henry Flaglers Overseas Railroad was built in the 1900's
By walking along the top of the eight foot high quarry walls, you can see just how they dug out the limestone needed to build the railroad, with some of the machinery they used being scattered around the park as a reminder of the hard work that was put in.
It's Not Just The Stone That Are Fossils At Windley Key
But to be honest, other than that it's really just a big hole in the ground.
But wait!!!!!
There is a way to make this trip so much more interesting, and that is the Rangers.
Try to find out about the Rangers Tours by contacting the information center before setting out to the Fossil Reef, as they do tours of the areas which really brings it to life.
Leading from the Information Center, you can grab a map, brochure and Ranger and the Big hole in the ground becomes something that most of us will see in a different light.
The guided tours are limited and only occur Friday though to Sunday at 10:00am and 14:00pm, but they do make a whole lot of difference to your visit.
It did ours.
But after sixteen Rum Runners, we would have been happy being shown a brick wall.
Everything becomes interesting after that much booze doesn't it?
The tours will cost $3.00 per person and children under 6 admitted free.
You can grab a brochure and do it on your own for the cost of entering the park ($2.00), but for the extra it's well worth it.
If you fancy taking a walk and a picnic then you can stroll along the trails that crisscross the area and find yourself a table throughout out the park.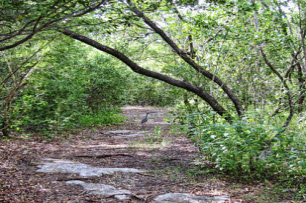 Pleasant Walks Can Be Had Through Windley Key Fossil Park

Be aware though that not many of them have much shade, so the "old Head" can get a bit hot as you happily much through your squashed and warm ham sandwiches, that looked great two hours ago, but now look like they had got in the way of a large Hummer.
Ahh the joy of picnics
So our summary for what it's worth, is go and the Fossil Reef, but if you don't like it, don't blame us.
We will be in Duval Street !!!!
Opening Hours
Park is closed on Tuesday and Wednesday.
The Education Center opens its doors Friday through Sunday, from 9:00a.m. until 17:00p.m.
Guided tours are available Friday through Sunday at 10:00a.m. and 14:00 p.m.
Admission Fee:
$2.50 per person.
Includes $.50 per person Monroe County Surcharge.

For more information about this state park simply click through on the link below to the official Windley Key State Park Website.
www.floridastateparks.org/windleykey
Return To Top Of Windley Key
Home | Site Map | Contact Us | Privacy Policy
By David Ralph
Copyright © 2010-2017 whats-at-florida-keys.com