Avis Car Rental Locations For Florida And The Florida Keys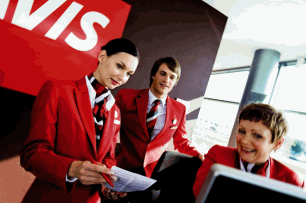 Avis Car Rental Locations are spread all over the mainland of Florida and also in the Florida Keys.
You will find that most of the locations are based either at the Airports such as Orlando, Miami , Key West or Marathon or downtown areas.
This should make them super convenient for you as you make the most of your Florida Keys vacation.
Because once you get here you want to be whizzing to the nearest Avis Car Rental Location so you can be on your way as soon as possible, to make the most of the time you have available.
If you are lucky enough to live here and just a need a vehicle to get home with, then I'm not as concerned with getting you on your way as quickly as possible.
I think that amount of good fortune in ones life has to balance out a bit!!
But for everyone else who only gets a couple of weeks at a time in the Florida Keys then let's take you down the full list of Avis Car Rental Locations starting of course with those nearest to the Florida Keys.
---
Florida Keys Avis Car Rental Locations

Key West
Make sure you check all the great Key West Attractions once you get the Keys to Your Key West Rental Car.
Key West Airport, 3491 South Roosevelt Blvd, Key West

Marathon
The history of Marathon is like most of the Florida Keys rich and diverse and linked with the teeming natural wonders of the sea – i.e. Fishing.
So make sure you pack your rods as get behind the wheel of you rental car
Marathon Airport, MM 52 Bayside, Marathon


Miami Airport
Make no doubt about it, Miami airport is an INTERNATIONAL airport and therefore most major airlines will be seen taxing around the runways before shooting off (and arriving) from all across the blue skies that categorise Miami.
Being such a large airport it will have a lot of choice in regards to car rental.
The Avis Car Rental Locations will be clearly marked along with all the other familiar names you would expect to see once arriving at your vacation destination.
But before you drive down to the Florida Keys popping across to the Everglades should be top of you list. Do not miss it!
Miami Airport, 4200 NW 21st Street Miami
---
Avis Car Rental Locations In Southern Florida

Altamonte Springs
• Sears Auto Center - Altamonte Mall Rental Cars
Aventura
• Aventura Mall - Sears Rental Cars
Boca Raton
• Boca Raton Rental Cars
Boynton Beach
• Sears Auto Center - Boynton Beach Mall Rental Cars
Bradenton
• Bradenton - Sears Auto Center Rental Cars
Brandon
• Brandon - Sears Auto Center Rental Cars
Cape Canaveral
• Cape Canaveral Rental Cars
Clearwater
• Sears Auto Center - Countryside Mall Rental Cars
• St Petersburg/Clearwater Airport Rental Cars
• Downtown Clearwater Rental Cars
• Clearwater - Autoway Lincoln Mercury Rental Cars
Clermont
• Clermont Regional Shopping Center Rental Cars
Coral Gables
• Sears Auto Center - Coral Gables Rental Cars
Coral Springs
• Coral Springs Rental Cars
Cutler Bay
• Sears Auto Center - Southland Mall Rental Cars
Daytona Beach
• Daytona Beach Rental Cars • Daytona Beach Intl Airport Rental Cars
Doral
• Sears Auto Center - Miami Intl Mall Rental Cars
Eglin AFB
• Okaloosa Regional Airport Rental Cars
Ft Lauderdale
• Port Everglades Shuttle for Cruise Ships Rental Cars
• Ft Lauderdale/Hollywood Airport Rental Cars
• Ft Lauderdale-Hyatt Regency Pier 66 Rental Cars
Ft Myers
• Southwest Florida Intl Airport Rental Cars
• Sears Auto Center - Edison Mall Rental Cars
Ft Pierce
• Ft Pierce - Days Inn Rental Cars
Hialeah
• Hialeah/Miami Gardens - Sears Essentials Rental Cars
• Sears Auto Center - Westland Mall Rental Cars
Kendall
• Kendall Rental Cars
Key West
• Key West Intl Airport Rental Cars
Kissimmee
• Radisson Worldgate Resort Rental Cars
Lake Buena Vista
• Hilton Hotel at Disney World Rental Cars
Lakeland
• Lakeland Rental Cars
Leesburg
• Leesburg Rental Cars
Maitland
• Maitland - Sheraton Orlando North Rental Cars
Mary Esther
• Mary Esther - Santa Rosa Mall Rental Cars
Melbourne
• Melbourne - Sears Auto Center Rental Cars
• Melbourne Intl Airport Rental Cars
Merritt Island
• Merritt Island - Sears Auto Center Rental Cars
Miami
• Miami Intl Airport Rental Cars
• Downtown Miami Rental Cars
Miami Beach
• South Miami Beach Rental Cars
Naples
• Naples Municipal Airport, Florida Rental Cars
• General Aviation Naples Municipal Airport Rental Cars
New Port Richey
• New Port Richey Rental Cars
New Smyrna Beach
• New Smyrna Beach Rental Cars
Ocoee
• Ocoee-West Oaks Mall-Sears Auto Center Rental Cars
Opa Locka
• Opa Locka FBO Service Rental Cars
Orange City
• Orange City Rental Cars
Orange Park
• Orange Park Mall-Sears Auto Center Rental Cars
Orlando
• Downtown Orlando Rental Cars
• Embassy Suites Hotel Orlando Rental Cars
• Doubletree Hotel at Universal Entrance Rental Cars
• Orlando Intl Airport Rental Cars
Oviedo
• Oviedo Market Place - Sears Auto Center Rental Cars
Panama City
• NW Florida Beaches Intl Airport Rental Cars
• Sears Auto Center - Panama City Mall Rental Cars
Panama City Beach
• Panama City Beach Rental Cars
Pembroke Pines
• Pembroke Lakes Mall-Sears Auto Center Rental Cars
• Audi Pembroke Pines Rental Cars
• Pembroke Pines-University Plaza Rental Cars
Pensacola
• Pensacola Regional Airport Rental Cars
• University Mall-Sears Auto Center Rental Cars
Plantation
• Broward Mall-Sears Auto Center Rental Cars
Pompano Beach
• Pompano Beach-Pompano Market Place Plaza Rental Cars
• Pompano Citi Centre - Sears Auto Center Rental Cars
Port Charlotte
• Port Charlotte Rental Cars
Punta Gorda
• Punta Gorda Airport Rental Cars
Royal Palm Beach
• Royal Palm Beach/Wellington Rental Cars
Sanford
• Sanford Orlando Intl Airport Rental Cars
Sarasota
• Sarasota/Bradenton Airport Rental Cars
• Sarasota Rental Cars
Sebring
• Sears Auto Center-Sebring Lakeshore Mall Rental Cars
South Miami
• South Miami - Dadeland Station Shop Ctr Rental Cars
St Augustine
• St Augustine Rental Cars
• St Augustine Airport Rental Cars
St Pete Beach
• St Pete Beach - Sirata Beach Resort Rental Cars
St Petersburg
• Albert Whitted Airport Rental Cars
• St Petersburg - Sears Auto Center Rental Cars
Stuart • Stuart Rental Cars
Sunrise
• Sunrise - Holiday Inn Rental Cars
• Sunrise Rental Cars
Tallahassee
• Tallahassee Rental Cars
• Tallahassee Regional Airport Rental Cars
Tampa
• Sears Auto Center-University Square Mall Rental Cars
• Tampa Rental Cars
• Tampa Intl Airport Rental Cars
Titusville
• Titusville Rental Cars
Venice
• Venice Rental Cars
Vero Beach
• Vero Beach - Miracle Mile Rental Cars
West Palm Beach
• Palm Beach Intl Airport Rental Cars
• West Palm Beach Downtown Rental Cars
• West Palm Beach in Walmart Plaza Rental Cars
• West Palm Beach/Greenacres Rental Cars
Weston
• Weston Rental Cars
Winter Haven
• Winter Haven Rental Cars
Winter Park
• Best Western - Mt Vernon Motor Lodge Rental Cars
---
Avis Car Rental Locations In Northern Florida

Jacksonville
• Jacksonville Intl Airport Rental Cars
• Mandarin Square - Jacksonville Rental Cars
• Wyndham Riverwalk Hotel-Downtown Rental Cars
• Jacksonville Rental Cars
• Chilis Shopping Center Rental Cars
Gainesville
• Gainesville Regional Airport Rental Cars
• Paramount Resort Rental Cars
Ocala
• Ocala Intl Airport Rental Cars

---
---
Florida Keys > Getting To The Florida Keys > Avis Car Rental Locations
Return To Top Of Avis Car Rental Locations
Home | Site Map | Contact Us | Privacy Policy
By David Ralph
Copyright © 2010-2017 whats-at-florida-keys.com