Harry Harris Park In Key Largo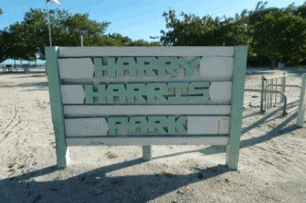 Bring the kids along to Harry Harris park in Key Largo, as the park is a great place for all the family to enjoy for the day.
Like most of the beaches in the Florida Keys, you will find a beach that is totally man mad.
Sand is shipped in every couple of years, to give the place a tropical feel.
To be honest, I see people moaning about the beaches not being natural but I couldn't care a less.
Sharp natural stones digging into my tender feet, or lovely soft man made sand??
Let me think about it for a while………sand anytime of the week.
has quite a small beach, but it is lovely and safe for the kids as it is protected by a stone jetty.
So this makes it ideal for swimming, so don't forget your towel and trunks.
If you are concerned about changing and washing the sand away before traveling home there are nice clean restrooms, which are checked regularly.
Also within its grounds you can find a playground, ball field, volleyball net, in-line skating park and picnic tables.
It even has a covered pavilion.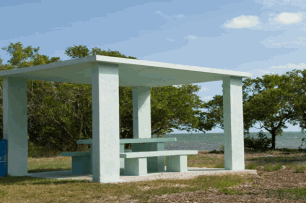 So really the Park has about as much in park and beach facilities as you can hope to have all in one place.
And one thing to remember is the park is free, which is not always the case at these types of place.
Unfortunately though that does not apply at the weekends or bank holidays, when you certainly will be coughing up a bit of cash to visit the park.
And they charge you per person too
So on second thoughts it would be best to leave the kids behind after all !!!
To reach the park follow the signs that lead towards the coast (mile Marker 92.5) Burton Drive.
Then simply stay on here for about 2 miles or so.
Address: MM 92.5 Oceanside, Tavernier, Florida Keys
Phone: (305) 852-7161
View Larger Map
---
---
Florida Keys > Beaches In Key Largo > Harry Harris
Return To Top Of Harry Harris
Home | Site Map | Contact Us | Privacy Policy
By David Ralph
Copyright © 2010-2017 whats-at-florida-keys.com