Key Largo Beach Guide
For Beaches And Parks
In Key Largo Florida Keys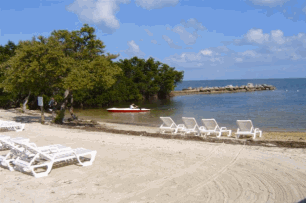 If you are searching for Florida Keys beaches and in particular a Key Largo Beach, you normally have to do a bit of research.
You see the island of Key Largo is not renown for its beaches.
Its diving...yes!
The diving here in Key Largo is world famous.
It even calls itself the " Diving Capital Of The World ", and you wouldn't dare do that unless you were pretty sure you could back it up.
But what about a beach?
Where do you go to find one of the best beaches in Key Largo if you don't fancy going the diving route.
Well the following list is the best you will find detailing everything that Key Largo has in the way of beaches.
You will see that we have included some parks like the Key Largo Community Park , that have swimming pools in them.
Not quite a beach, but still its good for those people that since watching Jaws are still afraid to go in the water.
---
Key Largo Beach Guide
Harry Harris Park
Bring the kids along to Harry Harris park in Key Largo, as the park is a great place for all the family to enjoy for the day.
Like most of the beaches in the Florida Keys, you will find a beach that is totally man mad.
Sand is shipped in every couple of years, to give the place a tropical feel.
To be honest, I see people moaning about the beaches not being natural but I couldn't care a less.
Sharp natural stones digging into my tender feet, or lovely soft man made sand??
Let me think about it for a while………sand anytime of the week.
Harry Harris has quite a small beach, but it is lovely and safe for the kids as it is protected by a stone jetty.
So this makes it ideal for swimming, so don't forget your towel and trunks.
If you are concerned about changing and washing the sand away before traveling home there are nice clean restrooms, which are checked regularly.
Also within its grounds you can find a playground, ball field, volleyball net, in-line skating park and picnic tables.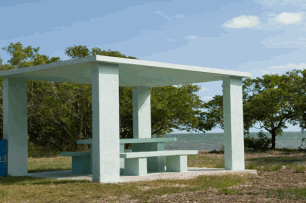 It even has a covered pavilion.
So really the Park has about as much park and beach facilities as you can hope to have all in one place.
Certainly it is the Key Largo beach of choice by the locals, who fully make use of its facilities.
One thing to remember is the park is free, but unfortunately not at the weekends or bank holidays.
And it is a per person charge.
So on second thoughts it would be best to leave the kids behind after all !!!
To reach the park follow the signs that lead towards the coast (mile Marker 92.5) Burton Drive.
Then simply stay on here for about 2 miles or so.
Address: MM 92.5 Oceanside, Tavernier, Florida Keys
Phone: (305) 852-7161

Address: MM 92.5 Oceanside
Phone: (305) 852-7161
Key Largo Community Park
Key Largo Community Park isn't a Key Largo Beach, but it is still a fun place to visit for the day, or at least for a few hours.
The whole place is built around one word "Community", with something for all the family.
This huge community park offers playgrounds, ball fields, a skate park, and tennis and volleyball courts, and also has Jacobs Aquatic Centre within its grounds too. Read More.....

Address: MM 99.6 Oceanside

John Pennekamp Coral Reef State Park
John Pennekamp Coral Reef State Park is not just the best of the beaches in Key largo, but also a great place to stay the night in a tent.
The park offers 47 campsites for both tent and RV campers with water and electricity: 30 amp, 50 amp and 110 volt, and each site has a picnic table and grill.
Read More.....

Address: MM 102.5 Oceanside
Phone: (305) 451-1202
Friendship Park
This is a nice little park in Key largo, which unfortunately for this page doesn't have a beach, but is worth mentioning.
It has a playground for the little ones, a basketball court, and a traditional little league baseball field.
It's a perfect place to take the little ones on those lovely warm summers evening.
Take a picnic and enjoy being together with your family until dusk when the park closes, or if a little league game is scheduled until that finishes.
Address: MM 101 Oceanside, 69 Hibiscus Drive, Key Largo
---
---
Florida Keys > Florida Keys Beach > Key Largo Beaches
Return To Top Of Key Largo Beach
Home | Site Map | Contact Us | Privacy Policy
By David Ralph
Copyright © 2010-2017 whats-at-florida-keys.com