Florida Keys Dive Sites Have Treasure, Wrecks The Lot!!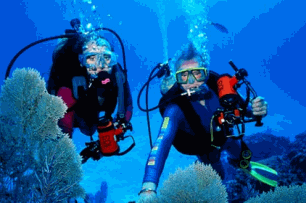 Dive sites are plentiful in the Florida Keys, as fortunately for those adventurous looking to go under the surface the Key has the third largest reef system in the world.
The reef runs for over 192 miles from Virginia Key in the Biscayne Bay right down to the furthest part of the Keys at Dry Tortugas in the Gulf of Mexico.
Added to the fact that the Florida Keys has the world's number diving place of Key Largo it signifies a diving experience that you won't forget.
So what makes many of the sites so appealing to the divers of the world?
"Treasure…..Jim Lad. Treasure"
....or if you want to get really Piratey, then "Pieces of Eight, Pieces of eight."
Although the reefs are wonders of natural beauty they are also treacherous, as many vessels have discovered throughout the centuries.
The sea bed is scattered with the graves of many a sailor and their crew who made a mistake as they navigated the beautiful but deadly waters off the Keys.
Many of the vessels were carrying a valuable cargo of gold, silver and other precious metals when they struck the reef and sunk to the bottom, so its little surprise that they have been a magnet for salvagers and divers who hoped to make their fortune by claiming whatever laid locked away in the depths for themselves.
So will you find your fortune?
Who knows, but what we can tell you is you will find something even more valuable.
You will find the best Florida Keys dive sites available to you.
The places that will make you go "Wow….now that what's we call diving"
For a great list of the diving experts around Key Largo and the Upper Keys then click here.
But let's start down at Key West where the coral reef follows the sunset until hitting Cayo Hueso down by Dry Tortugas.
We have grouped the diving locations by area as much as possible, starting with the sites furthest away from the Florida Keys.
Ready?
Let's dive.
---

Site Number One
Dry Tortugas National Park
This is as far as you can go in the Florida Keys,as it is actually over 60 miles further than Key West.
If you do want to go out as far as these to dive, then you will have to charter a private boat, or travel over to the site on your own vessel.
Do take care though as small boats are strongly advised not to attempt the trip due to the strong tidal currents that flow against the prevailing winds between Rebecca Shoals and the Tortugas Reef Read More..... 
---

Site Number Two 

Northwind
The dive site where the Northwind lies is 3 and half miles southwest of the Marquesas in 40 feet of water..
The Northwind is a large metal tugboat with a tragic story.
Although I suppose most, if not all of the wrecks that lie on the floor of the Florida Keys coastline have a tale to tell Read More..... 
---

Site Number Three 

Marquesas Keys
They consist of 10 mangrove islands surrounded by shallow Florida Keys Waters.
Many people believe that it could actually be a prehistoric meteorite crater due to the almost perfect ring it makes.
Whatever caused it, the Marquesas Keys, named after the Marquis de Cadeirata who was the commander of the Spanish fleet in 1622 that had the Atocha and Santa Margarita within its flotilla is a great place for experience divers to head out to Read More..... 
---

Site Number Four 

Smith Shoals
This area of the Florida Keys has a history of ships coming to a watery end around their vicinity.
Some sunk naturally, but others were victims of American military mines.
During the months of June and August 1942, four large ships made fatal mistakes and blissfully ignorant to potential dangers, hit the carefully laid mines, placed at Smith shoals by their own country and with dramatic explosions were ripped apart Read More..... 
---

Site Number Five 

Marquesas Rock
If you are an experienced diver then this should be right up your street.
It is indicated as a dive suitable for the best divers, due to the moderate to strong currents that are found in the area and the depth of 120 feet.
The sea-life you will see at Marquesas Rock is stunning to say the least.
---

Dive Site Number Six 

USS Vandenberg
You may not have heard of the USS Vandenberg, unless you are interested in the United States of Americas Navy, or interested in diving.
You see the USS Vandenberg is a visitor in the waters around Key West and has been there since May 2008.
You have to go looking for her however, as she now sits in 140 feet of water, 6 miles off the coast and is proudly names as one of the world best dive sites. Read More..... 
---

Dive Site Number Seven 

Western Dry Rocks
Everyone will love the Western Dry Rocks dive site, which sits about six miles southwest of Key West.
You see it won't matter if you are an expert diver, or someone who is complete novice and just fancy a bit of snorkelling this dive site has something for you all.
Why you may be asking.
What has it go that makes it the diving experience that fits everyone?? Read More..... 
---

Dive Site Number Eight 

9 Foot Stake
This is a great dive site for beginners to dip their toes into the world of diving.
With depths not more than 30 feet, many people use this a base for some underwater photography, and its not hard to see why Read More.....
---
Dive Site Number Nine
French Reef

French Reef is a really good diving experience for all standards of diving aficionados. 
Found in Key Largo, the reef has tunnels, ledges and caves to explore, and because of the lack of currents in the area, the visibility is really good.
So if you fancy taking some top class underwater photographs then this could be a great site to look out for. Read More.....
---
Dive Site Number Ten
USS Spiegel Grove

Up in Key Largo they have the only living coral reef in the mainland of America, but they are still not satisfied. So to make an artificial reef, they sunk the USS Spiegel Grove to provide one.
At one time this was the largest vessel to succumb to such a deliberate fate, but aren't we glad that it was as for diving lovers this should definitely be on their list of dives to experience. Read More.....

---
---
Florida Keys > Diving > Dive Sites
Return To Top Of Dive Sites
Home | Site Map | Contact Us | Privacy Policy
By David Ralph
Copyright © 2010-2017 whats-at-florida-keys.com