Key West Ghost Walks,
Talks & Grave Decisions 
Key West ghost stories and tales are common place down at the southernmost point of Key West.
And it's not really a surprise either.
As this small part of America is actually the fourth most haunted area in the whole of America.
Which is quite a claim if you think of all the places across the mainland that are renowned for spooky goings on, such as the French Quarter in New Orleans, the movie star homes in LA and of course  Galveston in Texas where the terrible tragedy occurred when over 8,000 folk were killed in the 1900 hurricane.
And even with these towns fall of ghostly incidents and unusual sightings, the furthest point away from the mainland can more than hold its own as the spooky capital of America.
Which makes booking one of our great Key West Ghost Tours one of the first things that folk do when looking for something to do in the evening in Key West.
If you do fancy climbing aboard one of the trolleys of the doomed, we can most definitely point you in the right direction.
Or perhaps you wish to follow in the footsteps of a lantern carrying expert of Key West ghost legends and stories.
Then get your most comfortable shoes on, as we can show you where to go to.
Ready for the best that Key West Ghost hunting can offer?
---
Ghosts and Gravestones Tour of Key West
This Key West Ghost tour will over an hour and half each evening discover some truly eerie moments from the history of the island.
You will find out about Count Karl Cosel, who was so distraught by the death of his beloved wife, took her out of her grave and stayed with her corpse for over seven years, talking to her everynght.
Now if you are of sound mind, you would think that this is awful, but there is a strangely romantic tale behind it all.
And that is the beauty of Key West Ghost tales and legends.
Unlike some tours that you might have been on, which fill the time with unexpected and unexplained bangs, chain rattlings or rooms with weird  vibes, most of Key West ghost tales have a strong link to realism and actually happened.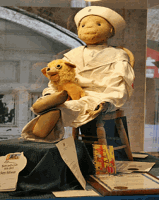 So if you fancy finding about more about this heartbroken Florida living German, or other gripping tales of superstition, murder, lynching and dodgy burial and stuff then the Ghosts and Gravestones of Key West is the Key West Ghost Tour for you.
You will go past the prime location of Key West Ghostly happenings, the Marrero House, the Porter Mansion, and not forgetting the guest of East Martello Tower Robert the Doll….the inspiration for Chucky from the Childs Play movies.
You can look at him, take his photo, but take your chances that your life will stay the same.
Robert has quite a history, and it's not a nice history either.
---
Ghosts & Legends Of Key West
Although to get on this Key West Ghost Tour you will have to meet at Duval Street, you will definitely be encountering some different spirits than you would normally expect to meet in this bar and pub stocked Key West street.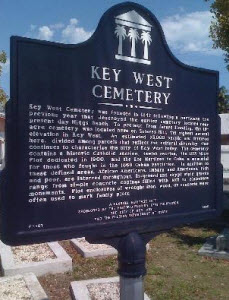 So start at the corner of Caroline and Duval Street and follow your guide through the Old City morgue, Key West Cemetery, and even discover a secret leper colony.
So walk into the dark streets of Key West Old Town, and also walk into the world of some of the most colourful, creepy and murderous folk that have ever called Key West their home.
The tour goes out every night twice a night, so you have the choice of 7:00pm and 9:00pm to get involved, and one thing for sure it's great fun.
Have a bite to eat in one of the bars or restaurants around Duval Street, join on the tour and then hit the best bars that Key West have to offer.
---
Key West Ghost Tour Cheap Tickets
Make your way down to the lobby of the Crown Plaza La Concha at 430 Duval Street to join in with another of the ghostly gatherings that occur every night.
Of course there are only so many spooky things that you can talk about, so many of the Key West ghost things are of course similar to each other, but the guide on this tour really throws themselves into it with a gusto.
Top hat, cape, and a lighted lantern that throws shadows along the darkened streets adds to the atmosphere nicely, as the stories are played out in front of you.
Once again you will be taken down to see Robert The Doll, the Cemetery, and told about the mad wife loving German Count, who dug her up and would serenade her nightly year after year.
The tour lasts 90 minutes, but make sure you get there about twenty minutes before it starts to ensure that tickets are bought and you guarantee your place.
If you have a lot of people in your party then it would definitely be advisable to phone up book your tickets first before making your way down to the La Concha hotel. 
Florida Keys > Key West > Key West Ghost Tours
Return To Top Of Key West Ghost Tours
Home | Site Map | Contact Us | Privacy Policy
By David Ralph
Copyright © 2010-2017 whats-at-florida-keys.com