Enjoy Luxury Florida Keys Hotels From Key Largo To Key West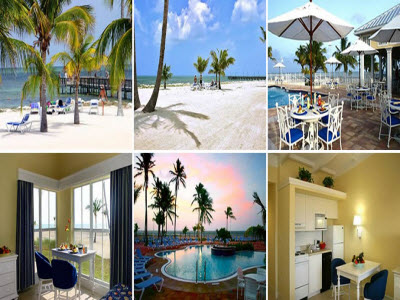 If you are looking for Luxury Florida Keys hotels, you can find information throughout the web. 
Most of them will say this one is the best, or that one is amazing, but we know that it is all subjective. 
For example you may be looking for luxury Florida Keys hotels that are made for relaxation, with spas, hot tubs, and private beaches to disappear to with a nice paperback for the day.
However the next person wants one with water-sports, excitement, and activities from the moment they wake until they drop exhausted into bed each night.
So we wont say which of these luxury Florida Keys hotels are best, but will simply say that they aren't cheap.
The list below are the premium rated hotels, starting in Key largo and running all the way down the island to the southernmost point in Key West.
So start saving your money, offer to wash next doors car, mow lawns in the neighbourhood and rest assured that when you visit the Florida Keys, you will be having a very nice time indeed. 
Which is just what you would like on vacation. 
---
The Gardens Hotel

The Gardens Hotels were first built in 1875, and spread a third of a block in Key West Old Town. With a name like "The Gardens" you can expect to see more than a touch of the green-stuff around, and you wont be disappointed. 
With palms, bamboo, orchids and fountains too, the gardens have been nurtured and maintained and are a delight, especially as they provide welcome and cooling shade against the Key West sun. 
All the room have private verandas, and whether you choose standard rooms to a two bedroom suite, you will be sure that the money it has cost is well spent.   
Address: 526 Angela Street, Key West
Phone: (305) 526 2664
Check Availability And Prices Now 
---
Azul Key West

This 1930 Queen Anne Mansion which is three and a half blocks from Duval Street, has been redone recently, to an extremely minimalistic style. Which to be honest gives it a nice relaxed feel that works well to escape the hustle bustle of Key West.
Spacious serene rooms, some with private verandas, have leather headboards, flat-screen TVs, and remote-controlled fans and lights.
This hotel is adult only, so forget about bringing the kids if you are thinking of booking a room here. 
Address: 907 Truman Avenue, Key West
Phone: (305) 296 5152
Check Availability And Prices Now
---
Pier House Resort Key West

The beauty of this Key West hotel, is that the 116 rooms are right on Duval Street which is the hub of the activity in Key West.
You also have access to a lovely bit of Key West beach, which is a complete luxury at this end of town.
There are very few luxury Florida Keys hotels that have so much on their doorstep, and this one will tick all your boxes.
Read more about this hotel.....
Address: 1 Duval St, Key West 
Phone: (305) 296 4600
Check Availability And Prices Now
---
The Moorings Village 

If you are looking for luxury Florida Keys hotels, and have an image of perfect sandy beaches, with hammocks tied between trees, whilst tucked back from the glorious ocean view cottages sit like shells providing instant luxury from the searing heat, then you have found it.
The Moorings Village in Islamorada is not far away from Cheecha lodge, but for one reason or another seems to be less well known. Which is great for you, as not only will you have the perfect paradise retreat, but you will have more seclusion too. Perfect.
Address: MM 81.6 OS, 123 Beach Rd., Upper Matecumbe Key, Islamorada
Phone: (305) 664 4708
Check Availability And Prices Now
---
Westin Key West Resort & Marina Review

Luxury Florida Keys Hotels should at the least have sea-views  so you can lay on your beds and watch the world famous sunsets. And this hotel delivers that big-time.
Each of the 146 rooms, which by the standards of most Key West hotels are very spacious, all have Heavenly bed and Starbucks coffee.
As a sister resort to Sunset Key, the other one of the luxury Florida Keys hotels in the Westin group offer guests limited access to the private island resort via a short shuttle boat ride. 
Address: 245 Front St, Key West
Phone: (305) 294 4000
Check Availability And Prices Now
---
Casa Morada

This hotel originally built in the 1950's has been brought bang up to date, but still kept all the charm of the original  with nice touches that you would expect to find in luxury Florida Keys hotels.
Each of the 16 suites have been designed to have their very own personality, with their own private balcony looking out towards the bay.
It also has its own island that you reach by crossing small beach, where the sandy and extremely exclusive beach can be found.
Address: MM 82 BS, 136 Madeira Rd, Upper Matecumbe Key, Islamorada 
Phone: (305) 664 0044
Check Availability and Prices Now 
---
Ambrosia Key West

Ambrosia Key West is one of two inns, which spread over nearly two Key West acres.
And although luxury Florida Keys Hotels like these two, are similar, the Ambrosia is I would suggest more intimate.
All the rooms have a theme, and are decorated with artistry from local craftsmen and painters which is a nice touch.
Each of the rooms has their own deck patio and porch, and own entrance so you can be as secluded as you like during your stay.
Address: 615, 618, 622 Fleming Street, Key West
Phone: (305) 296 9838
Check Availability and Prices Now 
---
Hawks Cay Resort

This is one of those luxury Florida Keys Hotels that cater for the whole family.
For example in the evening the adults can go out to dinner, and kids up to the age of 12 have organised events to keep them entertained.
With a huge pirate ship, with water cannons, and kids clubs, the whole family should get what they want.
Fun and activities for the children, and the chance to say "Goodbye kids" for the Mums and Dads.
Address: MM 61 OS, 61 Hawks Cay Blvd, Duck Key
Phone: (305) 743 7000
Check Availability And Prices Now
---
Marquesa Hotel

The Marquesa Hotel is a mostly straight, but gay friendly hotel in Key West.
Lots of the luxury Florida Keys Hotels we mention are to be found down at the Southernmost point in Key West, as they do like opulence and  expensive charm. And nowhere is that more true than at the Marquesa Hotel.
Elegant rooms surround a courtyard at this historic 1884 property and with lush gardens, waterfalls, and antique furniture, you will feel like you have stepped back in time. 
Address: 600 Fleming Street, Key West
Phone: (305) 292 1919
Check Availability And Prices Now 
---
Dove Creek Lodge

If you are an angler, or someone who fancies trying it out whilst on vacation, then you can't do better than choose luxury Florida Keys hotels such as the Dove Creek Lodge.
You can take a boat out from the marina and either participate in flat fishing for bonefish, or the exciting game-fish offshore.
And then at the end of the day, with your back aching from trying to reel in the biggest fish you have ever seen, and picking up one to many cold beers, you can settle back into the plush rooms and sumptuous beds and just drift away.
Make sure you don't get rooms 201 and 202, which are next door to the restaurant as they can get a bit noisy.
Address: MM 94.5 OS, 147 Seaside Ave, Key Largo
Phone: (305) 852 6200
Check Availability And Prices Now
---
The Islander Resort

This for many is the premier of all luxury Florida Keys Hotels, if you read many of the review sites. Certainly its the best in Islamorada "the Sport Fishing Capital of The World." 
Each of the suites have full kitchens, which is great if you have a family with you.
Talking about family generally the beach-fronted suites are where the kids will be, so if your'e a couple looking for a little quiet romance then look for rooms further back in the resort. 
The resort has two swimming pools, and views to die for
read more about this hotel here
Address: MM 82.1 OS, 82200 Overseas Hwy, Islamorada
Phone: (305) 664 2031
Check Availability And Prices Now
---
Cheecha Lodge Islamorada

The founding fathers of Islamorada are buried in a graveside on the site of Cheecha Lodge, which is interesting but not really the kind of thing that would make you stay here I suppose.
But add to it two restaurants, private beach, nature trail, swimming pool, luxury rooms, spa with mud baths, adult on lap pool with bar, then you might think again.
This is one the priciest of the luxury Florida Keys hotels, but it is often full up, so they must be giving what people are paying for....quality
Address: MM82 Overseas Highway, Islamorada
Phone: (305) 664 4651
Check Availability And Prices Now
Florida Keys > Florida Keys Hotels > Luxury Florida Keys Hotels
Return To Top Of Luxury Florida Keys Hotels
Home | Site Map | Contact Us | Privacy Policy
By David Ralph
Copyright © 2010-2017 whats-at-florida-keys.com