Marriott Resort Florida Keys
Beachside Hotel In Key West
If you are looking for a Marriott Resort Florida Keys has two available for you.
One in Key Largo and this one, the Key West Marriott Beachside Hotel.
Yes, you can have almost every different conceivable taste catered for you in the hotels in Key West Florida, but proudly standing sentinel at the entrance to Key West on Roosevelt Boulevard, this hotel is impressive.
Impressive with a capital "I"
There has literally been no expense spared, and you can see that in the classy way that they have combined great elegance with a distinct Key West Charm.
There are 222 rooms, all dressed up in designer furniture, flat screen TV's and marble everywhere.
There is a heated pool on the grounds surrounded by lush tropical foliage, rooftop sundecks, and a small beach for midnight strolls.
It even has a helicopter port on the roof, to impress your best friends and family.
Imagine saying to them "Fancy coming to the Marriot Resort Florida Keys" for a couple of days and flying them right to their rooms !!
If that doesn't make your special person swoon in your arms, then what will I ask you?
The Key West Marriott Resort Florida Keys is one of the highest rated hotels in Key West Florida Keys, and it isn't hard to see why.
The hotel has great deals on offer, so make sure you check out their vacation packages, with many special deals on offer throughout the year.
The all inclusive package is particularly popular.
When you leave your accommodation then you won't have far to travel as Marriot Resort Florida Keys is in the ideal location for your Key West vacation with easy access to all the beaches, arts and entertainment throughout Key West.
Boasting the biggest ballroom of any hotel in Key West, the Marriott is the perfect beach-side location for Key West weddings and wedding receptions.
You really have a great selection of place to dine.
Offering a few restaurants and dining options, the Marriott includes normal kind of fried food at Tavern N' Town, room service and casual bar type food at the Blue Bar down by the poolside.
For the kind of recreational activities that the Florida Keys is known for, make your way down to the Key West Golf Club for a quick eighteen holes, spa services, kayaking, snorkelling, sailing, scuba, jet skiing, waterskiing and even for the ones that aren't into the water stuff a great hike along the nature trails.
The hotel provides a very convenient and free shuttle service to take you down-town easily.
Just walk outside the door, jump on and it will drop you off in the centre of everything Key West has to offer.

Rooms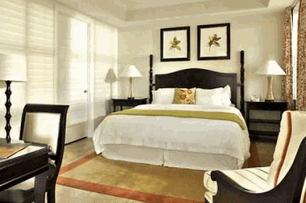 The hotel doesn't just offer your standard rooms as you would expect at say The Holiday Inn.
They have one hundred and twenty nine, single, two and three bedroom suites with spa tubs, gourmet kitchens, balcony's and also very nice and restful living rooms
The other ninety three rooms in the hotel are more standard but still have free HSIA.
Don't forget the complimentary shuttle service to the airport and another one that takes you down-town.
Or if you fancy just lazing around then a waterfront pool that is fortunately heated and a private beach will give you the perfect locations to leave Key West behind, and drift off happily into your own world.

Local Attractions
---

---
---
Florida Keys > Florida Keys Hotels > Marriott Resort Florida Keys
Return To Top Of Marriott Resort Florida Keys
Home | Site Map | Contact Us | Privacy Policy
By David Ralph
Copyright © 2010-2017 whats-at-florida-keys.com