Sundowners On The
Bay Key Largo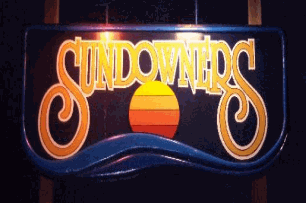 Sundowners On The Bay in Key Largo is one of the most popular Key Largo Restaurants to sit back and watch the Florida Keys sun go down.
This may not have the prestige of sunset watching like Mallory Square and the sunset celebration has, but certainly has its own appeal.
Overlooking the azure expanse of Blackwater Sound, the restaurant on the bay is an interesting concoction of open and airy seating whilst still being cosy and intimate.
Friday night is an all you can eat fish fry extravaganza, with all the tables set with fresh flowers for evening dining.
When we visited we had a choice of going with one of the sandwiches or something more substantial like the locals favourite Mahi Mahi Meuniere.
We went with the sandwiches and ordered one blackened and one fried, and both were extremely good indeed.
Sitting close to the ocean, we savoured the views, whilst continuing through the fries and tartar sauce, brought to us by a very nice server.
Who never left us unattended, but didn't bother us all the time by asking us "how is your meal, Gentlemen?"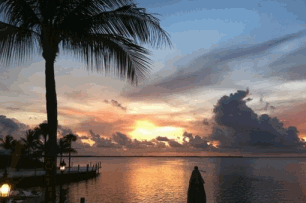 I don't know about you, but I always get fed up with this constant line of questioning.
The food was of a very high standard indeed, so we wandered into the large bar, adjoining the dinner service for a couple of nice beers.
As the place also allows food to be served, it can really get noisy on a Saturday when the locals flock to the Sundowners on the Bay.
If you are thinking of visiting then reservation would be recommended.
Another thing that separates this establishment from the norm is that you can feed the silver king aka the Tarpon for $6 a bucket.
We weren't that brave (or didn't have $6….can't remember now), so gave this a miss.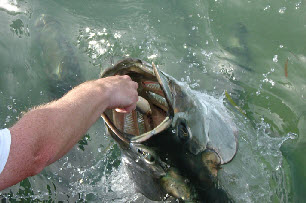 But it's certainly great fun to watch these huge fish leap out of the water in the early evening light as you stand there with a cool beer savouring a really good bit of food at a great restaurant.
I would recommend the restaurant fully, and keep in mind that it has a great place to watch the fourth of July fireworks too.
So plenty of reasons for 
Contact Information
Address: 103900 B.Overseas Hwy, Key Largo, FL 33037
Phone: (305) 451-4502
Meals Served: Lunch and Dinner
Cuisine: Seafood, Steaks, Sandwiches
Price Range: $10 - $30
Reservations: Yes
Dress: Resort Casual
Children's Menu: Yes
Bar: Full Bar
Entertainment: No
Florida Keys > Florida Keys Restaurants > Sundowners
Return To Top Of Sundowners
Home | Site Map | Contact Us | Privacy Policy
By David Ralph
Copyright © 2010-2017 whats-at-florida-keys.com