Honeymoon Packages
In Florida Keys.
Romance With A Capital "R"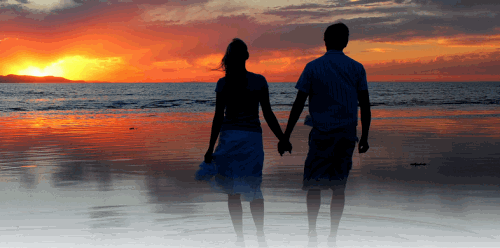 If you are looking for honeymoon packages in Florida Keys, then you have come to the right place.
We know everything about romance at whats-at-florida-keys.com
We have watched "Sleepless in Seattle" and "The Notebook" hundreds of time, and haven't cried once we tell you.
Ok, only in the last fifteen minutes of "The Notebook", when she is……sob…..dying……on……sob…..her bed….
Right, sorry about that.
Pulled ourselves together now!!
Honeymoon packages in Florida Keys can be anything you want.
That is the beauty of choosing the keys as your romantic honeymoon location.
You can have a lively, boozy honeymoon, when the nights roll into one and the party never stops.
You can have sporty, scuba diving, snorkelling, fishing honeymoon in Florida keys
You can even have get back to nature camping, low cost honeymoon.
And if you are really in love and can't bear the thought of not spending a second gazing into each others eyes then you can have the perfect luxury romantic filled days and nights, that will stay with your forever.
So let's start with choosing the location for your honeymoon in Florida Keys.
---
Honeymoon Packages In Florida Keys Locations
It really is worth doing a bit of research as to what area of the Florida Keys you think would tick all your boxes.
Each of the islands are very distinctive and you wouldn't want to just go..."Right lets go to the Keys"
If you want crazy, bustling, wild and fun days and nights you have to think about Key West.
Key West has a touristy attraction as it is the Southernmost point in the United States of America.
With Mallory Square and the Southernmost point being a honeypot for camera snapping tourists you may find that it is well worth a visit for couple of days of madness, but the other islands such Islamorada or Marathon maybe more up your street.
Most of the islands in the Florida Keys like to give themselves a little label to separate themselves from the rest
Key West is the Southernmost City of the Keys
Islamorada is known as the "Fishing Capital of the World"
Key Largo takes the "Diving Capital of the World"
And Marathon is known as the Heart of the Florida Keys as it sits pretty much in the middle to the rest.
---
Search For The Perfect Honeymoon Hotel
---
Getting Married or Renewing Your Vows
Most wedding coordinators offer free consultations and will help you design the day of your dreams (even if your dreams can get a little out of hand and wacky!)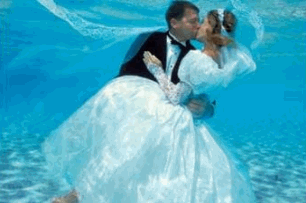 From the ceremony site to florists, photographers, caterers, music and the reception they can help you add that magical sparkle which perhaps you couldn't do yourself.
If you are planning on getting hitched you must be aware that to marry in the Florida Keys you must be over 18 years of age.
And to make it slightly easier (and perhaps cheaper too) a public notary can perform he ceremony as well as a minister.
And lastly (and who said that romance in the Florida keys was dead) out of state residents do not have to undergo blood tests, and there is no waiting period for non-Florida residents or residents from other countries.
---
Honeymoon packages in Florida Keys Should not cost the earth if you don't want them too.
Yeah, you can go mad...and on a honeymoon who can blame you throwing caution to the wind.
However with our guide to Key West Hotels providing luxury to economy.
Then we have the selection to get your honeymoon of with a bang (If you forgive our choice of phrase :) ) 
Florida Keys > Accomodation > Honeymoon Packages In Florida Keys
Return To Top Of Honeymoon Packages In Florida Keys
Home | Site Map | Contact Us | Privacy Policy
By David Ralph
Copyright © 2010-2017 whats-at-florida-keys.com