Duval Street Hotels Grab Great Rates And Offers For Your
Key West Vacation

Duval Street Hotels are probably the hardest hotels to get a room in when visiting Key West.
They are busy for most of the year, which isn't really a surprise due to the fact that Duval Street in Key West is a world-famous street, which leads to people searching for Duval Street Hotels as they feel the need to be on top of things.
And what a lot of things they are looking to be on top of too.
The street is a hive of activity twenty four hours a day, with a range of pubs, bars, clubs, restaurants, and general craziness and fun occurring wherever you look.
If you have been to Bourbon Street in Memphis, you will have some idea of what to expect on this street in Key West Old Town.
Have a few aspirins handy I suppose is the best bit of advice we can give you.
So if you are planning on a vacation in Key West, and fancy staying in one of the Duval Street Hotels, then let us give you a little idea of the geography so you can plonk yourself exactly where you want to be.
Duval Street runs north to south, or you might think of it as running from a lot of water, until it hits ……yeah the same again a lot of water.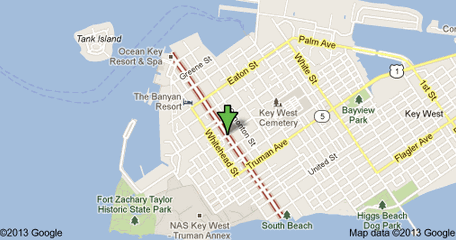 Map of Duval Street Through The Old Town Of Key West
At one end of Duval Street you will find the Gulf of Mexico, which is where you need to go if you get fed up with enjoying the luxury afforded by whatever is on offer in the Duval Street Hotels, and want to watch the world famous sunsets at Mallory Square.
This part of Key West is where you also go if you fancy a day trip to Fort Jefferson Dry Tortugas, which is about 70 miles away.
Whilst a stroll to the other end you will find the Atlantic Ocean, which if you look at the map of Key West is down by the southernmost point (that big multicolored buoy that you see on all the pictures)
This part is really the quiet end of the street, so if you are on the look for Duval Street hotels, that will allow you to enjoy the fun, but then get a good nights kip, then start with our list from this part of town.
But whatever of the Duval Street hotels you diced to go for, you will certainly have a vacation that you will remember for years to come.
Key West is all about memories…..as long as you can remember what you did the next morning.
---
A Few Of The Attractions Near Duval Street
---
The Full List Of Duval Street Hotels
Crowne Plaza Key West La Concha

This is really about as bang in the middle of things as you could be on Duval Street.
And also it is the tallest building on the island too, so you can slip your way up to the bar at the top and watch the stars and people come out all over Key West.
Address: 430 Duval Street, Key West
Phone: (305) 296 2991
Check Now For Availability And Room Rates 
---
New Orleans House (All Male)

The New Orleans Guesthouse is the only over 18 all male residence on Duval Street.
You can shop and club it until your energy has been sapped, and then retire to the sundeck and private pool, which will have as we said before only men laying around it.
The perfect location to get the best of Key West on your doorstep.
Address: 724 Duval Street, Key West
Phone: (305) 293 9880
Check Now For Availability And Room Rates 
---
Southernmost Hotel

Iconic is not the word for this hotel. Incredibly iconic is (if you ignore that is two words.)
Right across the street from the Southernmost on the beach, the southernmost hotels six buildings are surrounded by ample parking, which is a huge luxury anywhere in Duval Street, and particularly for many of the Duval street Hotels you maybe checking out.
So 127 rooms of pure Key West architecture and design await you. 
Address: 1319 Duval Street, Key West 
Phone: (305) 296 6577
Check Now For Availability And Room Rates 
---
Ocean Key Resort And Spa
Nestled between Key West Harbour and the evening event at Mallory Square, the Ocean Key Resort is a perfect Key West Location. The resort offers elegance, amazing sunset views and the Tennessee Williams inspired Hot Tin Roof restaurant, which blends Cuban, Caribbean and Floridian cuisine. The Spa Terre will give you a lovely escape from the vibrant and bustling Duval Street.
Address: Zero Duval Street, Key West 
Phone: (305) 296 7701
Check Now For Availability And Room Rates 
---
Orchid Key Inn
Built in the 1950's, the Key Lodge Hotel really couldn't  have chosen a better location, but needed a bit of touch up.
And now this 24 room Inn, is modern but still retaining the unique feel of Key West in the 50's.
Duval Street Hotels like this are perfect as being so central you can walk easily around the restaurants and bars of the Old Town, which is great as there is so much to see and do.
Address: 1004 Duval Street, Key West 
Phone: (305) 296 9915
Check Now For Availability And Room Rates 
---
Pier House Resort

The Pier House Resort has been one of the premier Duval Street Hotels for over 40 years.
After a recent renovation this hotel, which rooms have either views of the Gulf of Mexico or the swimming pool all have private balconies, where you can sit and sunbath in total seclusion. 
With its own private beach too, you will have no excuse from returning from your vacation without the sought after all over tan.
Address: 1 Duval Street, Key West 
Phone: (305) 296 4600
Check Now For Availability And Room Rates 
---
Casa 325

Casa 325 can provide both one and two bedroom suites in a recently restored Victorian building in Key West.
The suites feature queen size beds, fully functional kitchens with fridges, microwaves, and wet bar.
The center courtyard has its own swimming pool, which is surrounded by spectacular gardens.
Address: 325 Duval Street, Key West 
Phone: (305) 292 0011
Check Now For Availability And Room Rates 
---
Duval House

Even though Duval Street Hotels like this are surrounded by the pub, bars, and crowds, due to its lush gardens, you can be instantly secluded if you so wish.
The 28 standard and deluxe rooms and apartments are decorated and furnished with fine antiques, although mod cons such as air-conditioning and TVs are still in place too.
When you are there look for Mush, the Duval House cat, who weirdly gets sent letters from people across the world! 
Address: 815 Duval Street, Key West 
Phone: (305) 292 9491
Check Now For Availability And Room Rates 
---
Speakeasy Inn
The Speakeasy Inn is a turn of the 20th century inn, offering two floors of well positioned and furnished rooms, right on Duval Street.
Situated down by the boutiques and galleries, you should find things a little quieter in the evenings which is always nice. 
Amenities include color TV, A/C, coffee makers, refrigerators, microwaves, toasters, wood floors, and all rooms have private baths with showers. 
Address: 1117 Duval Street, Key West 
Phone: (305) 296 2680
Check Now For Availability And Room Rates 
---
---
Florida Keys > Florida Keys Hotels > Duval street Hotels
Return To Top Of Duval Street Hotels
Home | Site Map | Contact Us | Privacy Policy
By David Ralph
Copyright © 2010-2017 whats-at-florida-keys.com