Casa Marina Key West Luxury Hotel With Private Beach...Go On You Know You Want To!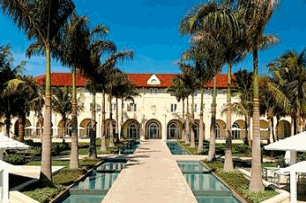 Casa Marina Key West is one of those hotels that you should stay at just once in your lifetime.
With its convenient location and private beach it has so much more to offer than many of the resorts, motels and hotels that you will see advertised in Key West.
So take a look at our take on the resort, and of course drop us a line with your own review of the place.
Or if you want to go and check prices an availability straight away simply click here
The Casa Marina Key West is situated on the waterfront down by Higgs Beach and CB Harvey Beach in Key West, and is a couple of miles for Key West International Airport.

It really is a perfect location, as from its premises you really are in the center of things.

It is only a short walk down to the bars, restaurants and clubs of Duval Street, and not far either to such famous Key West attractions such as the Key West Lighthouse and the home used by Ernest Hemingway to write some of his best books.

For other things such as Mallory Square home of the sunset celebration, the Key West aquarium, you can expect a walk of about a mile.

So its really up to you, whether you want to stroll through the tree lines streets, and past the classic gingerbread mansions that are pure Key West, or jump in a taxi.

But with Key West being such a little island, you do have the options of both which is always nice.

Last time I stayed at the Casa Marina Key West, I would jump in a taxi going out in the evening, and then stroll back underneath the stars slightly worse for wear most nights.

Perfect.
Read More On Our Best Of Key West Attractions Guide
---
What Things Can Expect To See And Use At The Casa Marina Key West?

The facilities at the Casa Marina Key West are really first class as you would expect.

From little touches such as being given frozen.....yes, frozen towels to cool you down whilst sitting around the pool (I had never experienced these and was a bit taken aback by the idea) to the complimentary shuttle service that comes back and forth to the resort until 17:00pm each night.

But from the moment you get there, the staff are attentive and friendly, and try their best to make sure that your stay in the hotel is a delight from start to finish.
Although they are extremely quick to take any tips that are on offer.
Some may find this a bit off putting, but hey....when in Rome and all that.

All the 311 rooms have wireless available, and the normal things like hair dryer, ironing board, cable television, and a safe that you would generally expect to see in most hotels.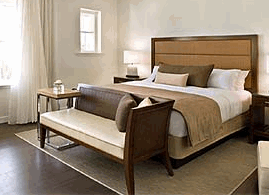 Wood Flooring Adds A Touch Of Class In The Rooms
---
Facilities
Air conditioning

Cable/satellite television channels

Premium television channel(s)

Hypo-allergenic bedding available

Daily housekeeping

Bathrobes

Multi-line phone

Voice mail

Refrigerator

Wake-up calls

Private bathroom

Designer toiletries

Turndown service (on request)

Hair dryer
Extra towels/bedding in room

Electronic/magnetic keys

Espresso maker

Flat-panel television

In-room massage available

Iron/ironing board

In-room safe

Electronic check-out

Cribs/infant beds available

Flat-panel television

Wireless Internet access (surcharge)

Connecting / adjoining rooms available

Clock radio
---
Casa Marina Key West History

Whilst you are reviewing whether to stay at the Casa Marina then it might be useful to know that the hotel has quite a history.

In fact a history as entwined with Key West as it could be possible to get.

Opening its doors back in 1920, one New Year's to be precise the resort was the brainchild of the man who probably did more than any to turn the Florida Keys into the place it is today.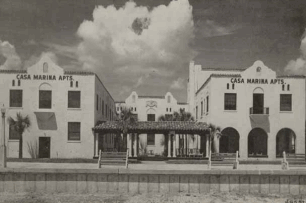 Humble Beginnings At The Casa Marina Key West
Photo courtesy of http://historicaltextarchive.com
The railroad builder Henry Flagler, had spent many years, many thousands of dollars, and the sweat of twenty lifetimes to build a railroad infrastructure that could connect the mainland of the Florida Keys to the exotic southernmost island of Key West.

He was quite a visionary to be honest, and knew as well as being able to move valuable cargo and merchandise quickly and efficiently from the ports of Key West through to the rest of America, the businessmen targetted to use the network would want somewhere to stay.

Well he could either off them the holiday inn of its time, or the most luxurious glamorous resort in all Key West.

Not being a man who only did things in half, he went for the second option and set out to build a modern day wonder.

Although unfortunately tragedy struck and Henry Flager succumbed to the pull of the afterlife, and departed our world before construction began in 1918.

It was such a shame that he never got to his dream come to fruition in one way, but also relief that he wasn't around to see the railroad get blown to pieces by the great hurricane of 1935, memorialized by the monument by the overseas highway in Islamorada.

Still he shouldn't have worried as the project to build Casa Marina Key West was in the safe hands of architects Thomas Hastings and John M. Carrere who had designed some of the most famous building in America such as the New York Public Library and House of representatives office in Washington DC.
However its fortunes were so to change when the US Government needed a property close to the waters of the Gulf of Mexico during world War 2, and later again in the sixties when all the trouble sprung up over Cuba and their stockpiling of missiles.

It wasn't quite what Mr Flagler had in mind for Casa Marina Key West, when he came up with the idea of the resort, but finally after many years of decline punctuated by intermittent restoration, the resort and its 311 rooms were brought fully up to scratch to the tune of $43,000,000.

Now it is fully restored to original opulent glories, whilst adding all the extra up to dates touches such as LCD tv's, music systems, and other home comforts you would want whilst staying in paradise.

Florida Keys > Florida Keys Hotels > Casa Marina Key West
Return To Top Of Casa Marina Key West
Home | Site Map | Contact Us | Privacy Policy
By David Ralph
Copyright © 2010-2017 whats-at-florida-keys.com