Rest Beach At White Street In Key West. Is A Bit Of A Strange Key West Beach
Rest Beach or to give it its full name CB Harvey Rest Beach is one of the beaches in the Florida Keys, where you may ask what the point of it is.
It's not like it has a huge amount of sand stretching miles across the Key West shoreline similar to Smathers Beach, as it doesn't.
It is only about 300 yards in length
It doesn't have the activities, water sports, volleyball and other fun things to pass the time such as you would find down the road at Higgs Beach.
It doesn't really have much at all.
So what does it have to make you venture down to Rest Beach with family in tow to enjoy this area of Key West.
Well I suppose it's more to do with what is around the beach than what is there itself, so if you fancy exploring the area it's not a bad place to start.
And if you fancy getting some great pictures back to the shoreline of Key West, then this is most definitely the place to come to due to the enormous pier that sticks out into the waters.
---
Where Can I Find Rest Beach Then?
If you look at the map of Key West you will find Rest Beach conveniently positioned between Key Wests Higgs Beach, Dog Beach and the lovely Smathers Beach.
It's actually the pier that we spoke about previously that really separates them from each other.
So if you walk south down White Street which is about as close to the middle of Key West as you can hope for, you will actually walk straight onto the White Pier and out into the waters.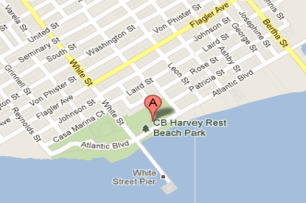 Click The Image Above To Go Straight To Google Maps
If you are unsure which way is south, then simply ask either of these two questions
"Could you tell me where Mallory Square is please?" which is the home of the sunset celebration, where folk congregate night after night to watch the amazing sunsets.
And upon being pointed in this famous squares direction walk the opposite the way.
The person who has just kindly given you instructions may look at you a little bit weirdly, but hey don't worry about it; at least you know the way you should be going.
And then the other question, where most people will know is "Could you point me to the Southernmost Marker please?"
This is the iconic multi-coloured buoy that attracts photo snapping tourists like you wouldn't believe.
Find this and then walk along South Street, before hitting White Street.
It's a bit of trek, but is quite a nice walk early in the morning before the sun gets too hot overhead.
---
What Is At Rest Beach Then?
Well for a start as long as you get there early enough there is Free parking just across the road, which from the moment that you arrive in Key West, you will realise is like gaining a huge lottery win.
There are also a few picnic tables scattered around, which actually when you compare to the size of the beach is a bit overkill.
Do that many people have the urge to have a picnic at this beach, when there is nothing really else to do down here?
Nah, I wouldn't have thought so, but the local authorities who in 1995 decided to throw a bit of cash to tidy up the place obviously thought so.
And that is that.
No restroom, refreshments. Vendors or anything else of note.
Nice place to walk your dog though.
---
So What Is In the Surrounding Areas Of Rest Beach Then?
Well this is where the beach can absorb a few hours as there are certainly enough things around to make it worthwhile visiting.
The first I would suggest is the dramatically huge White Pier, that is honestly stupidly big.
This thing is so big, that many have called it the Unfinished Road To Cuba and it is not hard to see why.
But it is a really lovely thing to walk, or even ride your bike if you have one, to the very end and turn around to view Key West from a much quieter (although often windy) location.
Take your cameras and even a fishing rod, and join in with the local residents, anglers or tourists who explore or make use of Rest beaches' White Pier.
At the front of the Pier you will find the Aids Memorial, which is a moving tribute to the 1000 people who have lived, worked or visited Key West and tragically departed early due to this horrendous illness.
The names are inscribed on Zimbabwe granite and embedded in the walkway approaching White Street Pier, so stop a moment and just reflect on this tragic loss of life
Now a little walk from Rest Beach itself is the Key West Garden Centre at West Martello Tower, which is a free to visit piece of Key West loveless.
In the early afternoon when the sun is at its hottest then you can slip over to the Tower and find some much needed shade amongst the lovingly nurtured flowers and trees at the Garden Centre.
Perfect place to rest, and gain your energy back before hitting the clubs and bars later that night.
For the Kids there is a little park called Astro Park across the road, which is loved by the really little ones.
For the rest of the information as to what to do whilst at Rest Beach then take a look at our great page on Higgs Beach and Dog Beach which are next door.
Or if you fancy a little bit of a longer walk then Smathers Beach has great stuff to read about too.
---
Other Users Of Rest Beach In Key West
The beach actually gets more use either early in the morning or late at night, as it is a personal favourite of those energetic yoga lovers, who enjoy watching a sunrise or two.
There are several areas on the beach where Yoga classes are held each night, with the most popular of them appearing to be this one
I'll have to be honest, I have no idea how effective they are as yoga experts as I have never joined in.
But I do know that there is always a crowd stretching and positioning themselves into some awkward position as the sun goes down, and the lights start flickering across the Key West skyline.
For more information on these groups then click through here.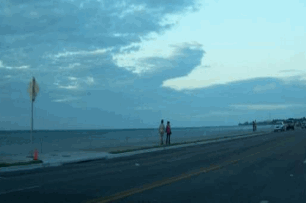 What I do know is how lovely it is to see the sun come up over the beach.
And for this pastime it really is a key position to experience one of Key West free attractions.
Get yourself a blanket, and a loved one or group of friends, and sit and watch the darkness gradually disappear as the sun heralds another day in paradise.
I have done this a couple of times, after going through the night with a beer or two in my hand up the road at Duval Street and the surrounding areas.
However make sure that you don't have a beer in your hand whilst being on the beach, as the authorities sometimes frown upon this practice.
---
Lastly, Who Was C B Harvey who finds their name linked to rest Beach Then?
I know that you are simply looking for information about the beach itself, but in case you are walking along the beach and someone stops you and says "Excuse me…do you know why this beach is known as CB Harvey Rest Beach" you will have the answer.
This beach and the park were named after Cornelius Bradford Harvey, former Key West mayor and commissioner who sadly died in 1988.
If you are interested then you can see his grave within the grounds of the Key West Cemetery, which you can read more information here.
Address: Atlantic Blvd, east side of White St. Pier Key West  FL 33040
Phone: None
Amenities: None
Parking: Free but limited  
Official Hours: Daily 6 am--11 pm
---

For more reviews and opinions on CB Harvey Rest Beach In Key West then simply click here for Tripadvisors review page.
Florida Keys > Florida Keys Beaches > Rest Beach
Return To Top Of Rest Beach
Home | Site Map | Contact Us | Privacy Policy
By David Ralph
Copyright © 2010-2017 whats-at-florida-keys.com