Key West Florida Vacations Are Fun And Sun For Everyone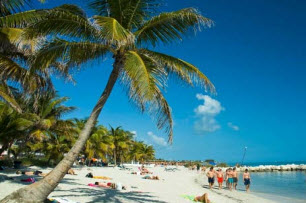 Key West Florida vacations are really quite special.
They have so much to offer for all the family.
They can be luxurious expense filled escapes, or they can be cheap, close to nature experiences.
The choice is yours, and that is one of the problems of vacationing in the Florida Keys.
It's what to do and where to go whilst you are there.
If you are wondering what the thousands of annual visitors who take one of their own Key West Florida Vacations get up to then then let's start breaking them down for you.
First of all let's start with where Key West is?
If you fly down to the southernmost part of Florida, or if you have more time on your hands you could drive down the Overseas Highway (or US1 as its known)from either Ft. Lauderdale or Miami then you will find a string of Islands known as the Florida Keys.
Key West is the most southerly of these Islands and holds the moniker of the most southerly point in mainland USA.
Its loud, relaxed, cool and a bit crazy.
But one thing certainly is its fun.
Because of the way the islands slink their way between the Gulf of Mexico and the Atlantic Ocean, the sea breezes and the scarcity of cities allow the temperature to remain.....almost perfect all year round.
Even in the winter months, when the world is shivering in snow and ice, down at the Keys it's still shorts weather.
This makes planning of Key West Florida Vacations a doddle.
You can do them whenever you want and still get a great tan.
Christmas on the beach…..get in there!!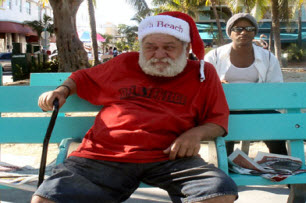 Once you get down to Key West, Florida Vacations start straight away.
Get yourself a hotel or a nice and convenient bed and breakfast and start exploring.
And it wont take you long to really discover the real Key West, as it is not big at all.
So quite often a hire car is not required.
Of course if you do fancy a car, we have great discounts available with all the major rental car companies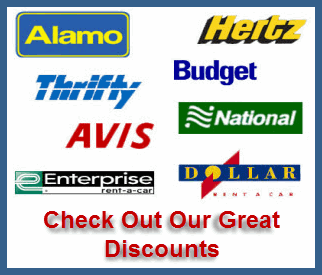 Key West is about 4 miles long and 2 miles wide, so over a few days, if you decide to let your feet take the strain, you can see it all at a nice leisurely pace.
Of course, you will do much more walking than that as you pop in and out of the art galleries, bars, restaurants and shops that cover the area.
If you decide to hit Duval Street Nightlife, then a staggery kind of walk will no doubt occur, as you tell everyone you meet on route how much you love them.
You can cover miles, as you swerve and stumble along the route doing the Duval Crawl.
It's well worth it though, as each of the bars have its own distinctive heartbeat.
---
Fishing
"What about fishing?" you maybe wanting to ask.
Well, we won't disappoint you as your Key West Florida Vacations can start with a rod and end up with the biggest fishy tale you have ever had the opportunity to tell.
Around the water of the Florida Keys, you will find some of the greatest fishing anywhere on earth...we kid you not.
You could fish for Tarpon sailfish, dolphin and even shark.
Of course you maybe an expert fisherman and have your own boat, or you might be like us and not really know one end of a rod to the other end (We assume you put the end with the hook in the water???)
Well, whatever you expertise your Key West Florida vacations can be tailored for your fishing requirements.
If you want a place to moor your boat, if you sail down to the Keys then Bud N Marys will be able to point you in the right direction.
All the marinas and harbours in Key West can be contacted before you arrive to make sure your trip is well, plain sailing !
Howabout flying down and straight into the arms of one our resident guides and charters that can be hired for the day to take you exactly where the fish are, whilst you lay back catch some rays and sink some beers.
Then don't waste anytime, and get it sorted before you leave home as these guys are really sought after.
---
A Little Romance
Key West Florida Vacations do not just have to be about having a great time.
What about adding a little spice and uttering the words "I Do"?
Hang on guys, I'll give a little time to recover.
You ok now?
Think about it, not only are you telling your loved one that you love them in one of the best places on earth.
You also have the chance of having an unbelivable honeymoon with fishing, drinking, sailing, drinking, sports, great hotels......and if you fancy something different to do.....
A little drinky too.
We will be putting the best information to converting your Key West Florida Vacation into a Key West Florida Honeymoon soon.
So come back soon and check out the Romance section.

Florida Keys > Key West > Key West Florida Vacations




Return To Top Of Key West Florida Vacations




Home | Site Map | Contact Us | Privacy Policy




By David Ralph
Copyright © 2010-2017 whats-at-florida-keys.com