Rent A Vehicle In The Florida Keys Safely And Cheaply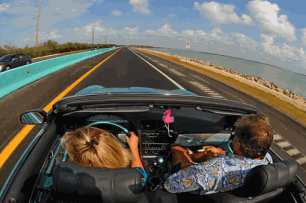 If you want to rent a car or vehicle to get around the Florida Keys the first bit of advice is don't go anywhere else.
All the companies listed in the following sections are highly recommended, affordable and most importantly fully safety conscious.
Yes, you can rent a vehicle in many of the streets in Miami or the mainland of Florida, but I wouldn't.
And I certainly wouldn't if I were travelling with my wife and children.
It just isn't worth taking the risk.
But the other side of the coin is, if you are like me and you don't want to just waste your money on a rental that in all honesty you have hired just because it's the thing to do, then don't do it.
Spend your money on something else instead.
So the information we provide will always be based on three criteria.
Number One: Where Can I hire a bike, car or boat from?
Number Two: Where can I do it for the cheapest possible, but know that everything is as it should be?
And lastly
Number Three: Do I actually need to rent at all?
So with these three things in mind read down the following sections and make your choices.
---
Where to Rent a Car In Key West And The Florida Keys

Key West is one of those places that you really need to stop and ask yourself the simple question "Do I really need a car whilst I am here?"
For the island is not that big at all.
Its entire area is 7.4 square miles, which of course as you sit wherever you are probably seems huge but believe me it's not.
Especially when many of the attractions that you will want to see and do are based around an area of less than 3 miles, either walking or a quick hire of a taxi is probably the most sensible thing to do.
And whilst we are trying to talk you out of hiring a car during your say in Key West, its best that you also realise that parking is diffcult to say the least.
Some say a nightmare.
We do have some excellent parking in key west advice which will give you insider tips and few of those..."oh if only I had known that" things that can make leaving your car in the southernmost island a little easier.
Oh, yeah and we also have the best of the free parking available in Key West too
But if you definitely decide that you want your own set of wheels then take a look at renting a car in Key West. 
So that gets Key West sorted but what about the other islands?
Well, when it comes to Marathon, Islamorada and Key Largo you will get the normal franchise's appearing such as Avis , Dollar and Enterprise and most will be around the Florida airports or down town areas.
So that's what we would recommend.
In Key West don't bother, unless you are leaving and driving through the Keys, whilst for the main areas rent a car from any of the major airports and you can be comfortable in the thought that they have all been checked out and are safe to drive
---
Where to Rent a Bike In Key West And The Florida Keys
For many people the thought of driving through the Florida Keys feels them with dread, but get them renting a push-bike and they couldn't be happier.
So the following links will take you to the best places to hire a bike through the keys, so you can wind your way around the congested streets of the Key West with ease.
Or if you are feeling even more energetic then perhaps you could attempt the Overseas Heritage Trail that covers over 100 miles of the most picturesque scenery you could ever hope to see. 
---
Where to Rent a Moped or motorbike In Key West And The Florida Keys

So you don't fancy a car to get around in, a bike sounds great but the old legs are not what they used to be, so this leaves you firmly in......
Moped Land.
Yes, the land of the moped or scooter or if you are more experienced then a motorbike is where you should head for, and once again....yes, I know what you are saying
"These guys at Whats-At Florida-Keys.com do way too much for us already!"
But, hey that just the way we roll, so click on the following link that will narrow down the most reputable companies where you can rent a moped or hire a motor bike And sometimes for just a few hours too.
What are you waiting for???....click people, click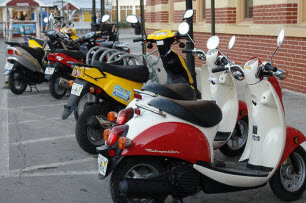 ---
Where to Rent a Boat In Key West And The Florida Keys

Lastly, although it isn't one of the main forms of transport that you would think of renting just to get around the place, we must touch on boats.
Being that the Florida Keys has a lifestyle based around the waters that surround it, many many people either get out on the waves as soon as arriving in the Keys, or make their livelihoods out of it and there are lot of boats to hire.
It could be just to bob around with some of your mates, sinking a few beers whilst the glorious sun beats down on you.
Or it might be to go fishing for the greatest game-fish you will ever have the chance to catch.
So around all the Keys, but especially on the island of Islamorada you will find Renting A Boat or Charter as easy as.....well falling in the water.
The many marinas and clubs that scatter the area have Captains and Charters with generations of experience, and by hiring this expertise for the day, they can drop you right on top of the fish.
Whilst you...once again sit around sinking a few cold beers
Perfect! 
Florida Keys > Getting To The Keys > Transport Hire
Return To Top Of Rent A Vehicle
Home | Site Map | Contact Us | Privacy Policy
By David Ralph
Copyright © 2010-2017 whats-at-florida-keys.com